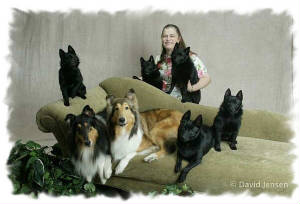 to see my schipperkes, click here
2008- we went to one show in June, Pixie was shown in her 1st show, she not only went winners bitch, she beat her brother out of breed! .. so she got to go to groups in main and bred-by. good experience for her, did nothing in the main group, but she got a group 3 in the bred-by!. I expect her to do well in the coming years of showing.
we also went to the draft trial in Sept. and I entered the brace team of Dancer and Yukon both days and Star got to play as well on Sunday. all of my teams passed with flying colors..
check out thier pictures.
here is the pictures taken of the draft trial - sept. 2004 with Star
2010 was a productive year in some ways .. had a new litter... had some problems with drafting .. Dancer got another pass towards her advanced title, but the brace didn't pass either day
Bubbles went to TX and took BOS at the specialty there, plus a couple more and alot of points towards her grand championshop..
was very pleased with my kids this summer over all.
2011 ...brought out some new kids and titles!..
Kahlan went to her 1st show in Jan at just 7 months old, taking breed and a 4 point major, she beat her grandma Bubbles .. whom redeemed herself the next day by taking a group 3!.. Kahlan took winners for another 3 point major .. so majors out of the way for the kid.. she continues her trek .. getting another major in March.. continuing to June getting another breed on sat and then taking group 2 in the bred-by extravaganza on sunday!.. she finished her quest in July getting her CH on sat in Kenai! .. ..
Yukon got a BN (with a 1st place and 197!), went on to get his CH in June... and Rally novice in July with placements so far and hopefully he isn't done yet.
Bubbles got her GCH in July in Kenai and another group 3.. and now working towards bronze.. she and Kahlan got invited to Eukanuba as well ..
Charm finally broke out of reserve queen and got a major at the cook inlet shows!.....
Dancer got her ex title in rally in July as well
the Int'l shows came up this year after a 6 year break.. I put Bubbs and Kahlan in all 4 shows, Seeker in 2 of them. Kahlan took breed on show 1, Bubbs got breed the other 3 shows, Bubbs got a group 3 in show 2 and group 1 in show 4.. she wound up getting reserve bred-by and reserve veteran for show 4, the breeder group too reserve as well .. Kahlan and Bubbles both got a title that weekend, bringing home lots of hardware and ribbons!
the following weekend the brace team of Dancer and Yukon got 2 more passes in drafting. Dancer however didn't get her advanced title yet, so we must continue on as long as she likes it.
we had a fun and exciting year even tho the summer was extremely busy with training and shows.